Orlacs Hände, silent film by Robert Wiene (1924)
Live music and soundscapes by Stephanie Pan (toy instruments, baby synths and objects) and Joris Weimar (prepared piano, clavichord and cello) for the Sounds of Silence Festival (6 February 2016)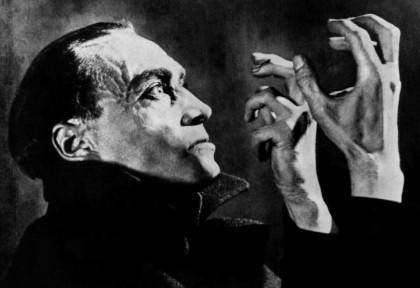 Reuniting the star and director of The Cabinet of Dr. Caligari, The Hands of Orlac is a deliciously twisted thriller that blends Grand Guignol thrills with the visual and performance styles of German Expressionism. Based on a novel by medical-horror novelist Maurice Renard, it charts the mental disintegration of a concert pianist (Conrad Veidt) whose hands are amputated after a train crash, and replaced with the hands of an executed murderer. When Orlac's father is murdered by the dead man's hands, Orlac begins a steady descent toward madness.
Music by Stephanie Pan and Joris Weimar
The music for this film includes a combination of piano, lo-fi electronics and toy instruments, underscoring the mix of expressionist and naturalist visuals employed in the film. The score balances recurring leitmotifs, distorted soundscape, and improvisation, to create an unsettling, unpredictable aural environment as the audience is drawn into the increasing madness of the film's protagonist. Joris Weimar ([prepared] piano) and Stephanie Pan (toy instruments, electronics) join forces for the first time to create this contemporary but strangely fitting live film score.