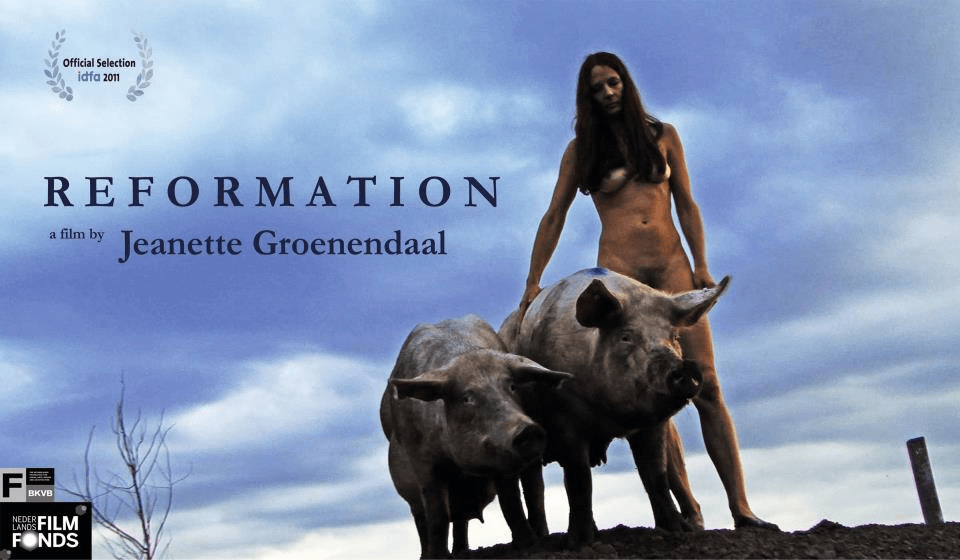 Music for a feature-length film by Jeanette Groenendaal
Premiere: IDFA 2011
Synopsis
At the age of seven, director Jeanette Groenendaal moved to a deeply religious village. It was the 1970s, and the girl's arrival from the big city of Utrecht provoked fear in the hearts of the inhabitants of the small hamlet in the Dutch Bible Belt. They saw her as an "alien" and a "city whore," and treated her accordingly. The teacher at her strict Calvinist school called her the "Devil's daughter" and the whole class repeated his words. Thirty-eight years later, Groenendaal (Dutch Cocaine Factory, 2007) returns to the village to film a personal study of the scapegoat mechanism. She sets up a complex performance/film project in the village, staging tableaux performances based on the frozen images from her memories of this emotionally charged location. This stylized autobiography is more than a personal therapy session or a documentary about a fundamentalist community. It returns to the past, not out of revenge or a need to judge, but to investigate the roots of a past that is returning to the present, with the contemporary outpouring of religion, conservatism, xenophobia, and judgmental moral standards.
Credits
Director: Jeanette Groenendaal
Photography: Jeanette Groenendaal
Screenplay: Jeanette Groenendaal
Editing: Zoot Derks, Jeanette Groenendaal
Sound recording: Jeanette Groenendaal
Music: Stelios Manousakis, Stephanie Pan
Sound Design: Stelios Manousakis
Music recording, editing, mixing, production: Stelios Manousakis
Additional music recordings: Stephanie Pan
Musicians: Computer Aided Breathing, Stelios Manousakis, Stephanie Pan, Kirstin Gramlich, Jelte van Andel
Production: Jeanette Groenendaal for G-netwerk
Audio Post:  Warning Studios
Color Correction:  Jeroen Weeda
Translation: Stephanie Pan
Subtitling: Zoot Derks
Additional Camera: Martin Hansen, Jandries Groenendijk, Zoot Derks, Baronesse van Wassenaer
Performances: Eva van Kleef, Lotte Duncker, Cille Lansade, Manah Depauw, Stephanie Pan, Otobong Nkanga, Jihyun Youn, Susanne Ohmann, Jochen Stechmann, Sarah Manya, Voin de Voin
Soundtrack recorded at: Orgelpark (Amsterdam, NL), De Flat (The Hague, NL), Institute of Sonology – BEA5 studio (The Hague, NL)
Met dank aan: Het Nederlandse Filmfonds O en O, Fonds BKVB LIVE, AFK, DasArts, DXARTS, en vele vele anderen!