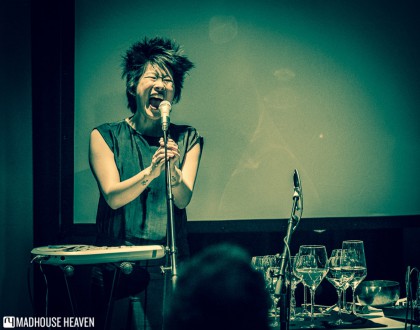 Stephanie Pan is a vocalist, performance artist, maker, and multi-instrumentalist currently based in The Hague, the Netherlands. At the root of her work is the notion of pure communication; finding a form of contact with the audience which is stripped of social expectations and distractions, that speaks beyond the conventional and social limitations and constructs of language. A mutating combination of theater/performance art/experimental music/improvisation/controlled chaos/pop music/classical music, her work is visceral, passionate and intense, and often explores the limits of the body and voice.
She has performed throughout the US and Europe, and has presented both solo and collaborative work in venues and festivals as varied as CTM Festival Berlin, Young Vic Theatre London, La MaMa Theater NYC, Amsterdamse Stadsschouwburg, Incubate Festival Tilburg, Dag in De Branding, dOCUMENTA, IDFA, Beursschouwburg Brussel, and Gemeentemuseum Den Haag. She has created and performed work with a wide variety of groups/collaborators such as acclaimed rebel theatre group Belarus Free Theatre, Rosa Ensemble, De Veenfabriek, filmmaker Jeanette Groenendaal, and composers Trevor Weston, Barbara Ellison and Jasna Velickovic. Together with her duo partner Stelios Manousakis, she has co-founded groups such as Computer Aided Breathing, a trio for voice, organ and live electronics devoted to live improvisation, and Center no Distractor, a duo for taiko and live electronics. Additionally, they co-founded and co-curate the new inter-media event Modern Body Festival in The Hague.  As a Medievalist, she has recorded with Sequentia, and was a founding member of Scivias Chor and Ars Choralis Coeln.
Ms. Pan received her Masters in Theatre from DasArts: Advanced Studies in the Performing Arts (AHK), and holds a BA from UC Berkeley in Music and Applied Mathematics, and a First Phase Diploma, with distinction, in Classical Singing from The Royal Conservatory, The Hague.
Download a recent CV here.